Acupuncture is a branch of traditional Chinese medicine that is over 3000 years old and one of the oldest forms of natural healthcare. Acupuncture is based on the concept that the body's vital energy travels in a series of clearly defined paths called meridians or channels. By stimulating meridian points that correspond to various organs and systems in the body, the body's energy can be encouraged back into balance which allows the body to heal itself.
The Acupuncture exam:
The initial examination of a client involves looking at the whole person including body, mind and environmental lifestyle factors. Before Dr. Lindsey begins the acupuncture session she will do a brief consultation with the client to know more about their health and goals they are wanting to achieve with the treatment.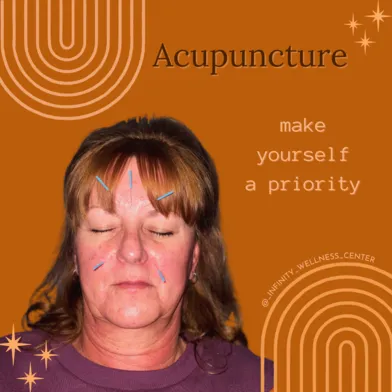 How many treatments will it take?
The number of treatments will depend on the nature of the problem and the individual person. Other treatment options may be employed if necessary including whole Nutritional Counseling, Chiropractic Adjustments, AMIT, Cold Laser, Class IV Hot Laser, Pulse or Massage.
Is it painful?
Acupuncture needles are not much thicker than a human hair, and the insertion is typically painless. We use sterile, individually packaged disposable needles. Most patients find it relaxing and enjoy a nap through treatment.
How long does it take?
Each treatment time varies, but expect around 30-45 minutes.
What can acupuncture help with?
Acupuncture can help alleviate a variety of different symptoms and issues, such as:
Neck Pain
Shoulder Pain
Back Pain
Reduce Stress
Headaches or Migraines
Prenatal Discomforts (Morning Sickness)
Sinus Issues
Infertility
Depression and Anxiety
Weight Loss
Gas or Constipation
Gut Issues
Arthritis